Artist's gyotaku prints offer more than a pretty picture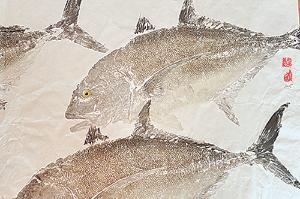 PHOTOS COURTESY OF CRAIG T. KOJIMA
By Erika Engle, Star Advertiser
Even a Japanese emperor's fish tales could not be exaggerated once gyotaku prints were made depicting the size of his catch. That is one version of how the Japa­nese rendition of this type of nature printing came about.
"This was a wise decision considering how much a fish can grow after it has been caught and the tale is spun from one person to another," says Hono­lulu gyotaku artisan Derek Wada on his website. He explains that "gyo" means fish and "taku" means reclamation.
Wada's gyotaku work is different from others in that the artwork he has screen-printed on shirts isn't just about an image of a fish with its Hawaiian name or its common name. The shirts also include the fish's scientific name.
The shirts were not even close to his main focus. Wada's gyotaku work started out as an effort to catalog as many species as possible in part as an homage to Dr. John "Jack" Randall, once the head ichthyologist at the Bishop Museum. Randall is the father of one of Wada's high school friends and "single-handedly identified more than 600 species of fish all over the world," Wada said. Retired, in his 90s and living in Kaneohe, Randall "is still sharp," he said.
There was no Internet when Wada set out to learn more about gyotaku, which he was first exposed to by a Japa­nese TV program. He conducted his research in the library, the old-fashioned, academic way. His passion was pursued outside his "real" job as a project supervisor for Starwood Hotels.
He is self-taught and incorporates techniques for watercolor and acrylic painting as well as Japa­nese lacquering in his fine-art work.
"I put so much into it I almost don't want to sell it," he said. He is more interested in contributing his pieces, printed on archival-quality paper which has been treated for longevity, to an academic collection rather than selling them, he said. However, he does sell giclee reproductions.
The main reason he has his prints converted to silk screens for T-shirt production and, now, lightweight tote bags for people who eschew plastic, is customer demand.
He started with one shirt, which he had printed by essentially stamping it with a fish. He'd wear it when he went fishing, and when it was hanging up to dry in his family's garage, people would offer to buy it. The requests continued long after the shirt became weekend boro-boro wear with holes in it, he laughed.
He made some shirts as thank-you gifts to people who helped him in whatever way — by giving him fish to print, for instance.
T-shirt printing became a business after brisk sales of his wares at the Okinawan Festival more than 20 years ago. His day job and his art fill enough time that he does not want to get into wholesaling right now, as he doesn't want to burn out.
His prints are bright and colorful or muted, depending on the fish species depicted.
Wada has always loved the ocean. His home overlooks it, he fishes in it and he finds just going in the water to be therapeutic. "It's centering," he said.
It also is his motivation for spreading knowledge about what lives below the surface.
Because it grows larger in Hawaii waters than anywhere else, Wada said, an oio on his shirt design also bears a catch-and-release tag.
"I've caught the same fish three times," he laughed. Folks who catch fish with a yellow tag are asked to contact the Oceanic Institute, whereas oio tagged with green are to be reported to PacificFisheries@gmail.com — information that is included in the T-shirt design.
Wada's website offers T-shirts for sale and displays examples of his gyotaku art on archival-grade paper. Some of the latter is for sale, but some is not. Both shirts and fine art are grouped according to the ocean region in which the marine life can be found.
Fish depicted include yellow tang, kihikihi (moorish idol), manini (aka convict tang), malolo (flying fish) and many more.
In the case of the fine-art pieces, anecdotes of how the "models" were caught accompany many images.
Read the original Star Advertiser article here.
---
How Fishermen's Bragging Rights Gave Birth To Fine Art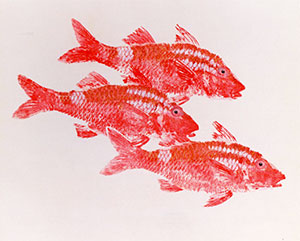 Kumu (sp. Parupeneus porphyreus)
By Tove Danovich, National Public Radio
Fishing lore is full of tales about "the one that got away," and fishermen have been known to exaggerate the size of their catch. The bragging problem is apparently so bad, Texas even has a law on the books that makes lying about the size or provenance of a fish caught in a tournament an offense that could come with a felony charge.
But in 19th-century Japan, some enterprising fishermen found a foolproof way to record trophy catches. (Some versions of this origin story suggest they did so at the emperor's behest.) The method was known as gyotaku, or "fish rubbing," and allowed fishermen to print inked fish onto paper — creating a permanent record of their size. They used a nontoxic sumi-e ink, a black ink traditionally used in both writing and painting which could be easily washed off. Once the print was made, the fish was either released, if it was still alive, or sold at market.
At first, these prints were rudimentary, but they soon became works of art. Fishermen began adding details like eyes (which don't show up in a print) and enhancing other parts of the image. Over time, gyotaku became an established art form with two printing methods: direct and indirect.
Gyotaku artist Heather Fortner explains that in direct printing, the ink is placed directly onto the fish, using it almost like a stamp on the page. Indirect printing is the "finer art form," she says: The paper is glued to the fish and ink is tamped gently onto the page, "like a gravestone rubbing."
Though gyotaku artists traditionally used sumi-e ink, today, anything from India ink to acrylic is considered fair game.
Another artist, Derek Wada, spends up to a full day working on the base prints for his gyotaku. "It's hard, because you're trying to put a 3-D art onto a 2-D medium," he says. "You have to make up the shape and silhouette of the fish by pressing." If the fish was speared, the gyotaku will have a hole on the page. Likewise with ripped fins, scars, or any other flaws.
Read the full National Public Radio article here.
---
Setting up for the 26th Islandwide Christmas Crafts & Food Expo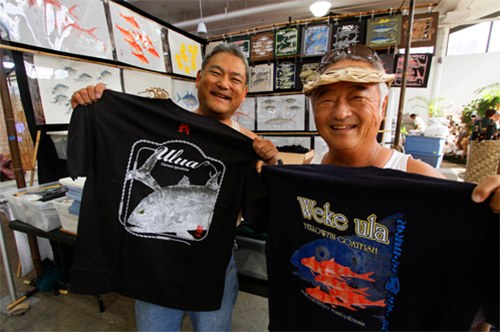 PHOTO BY DENNIS ODA
Derek Wada, left, and Mike Kim hold up two fish shirts that Wada made using real fish to make the imprints. Mike is selling his Ni-ah coconut brooms in the same booth.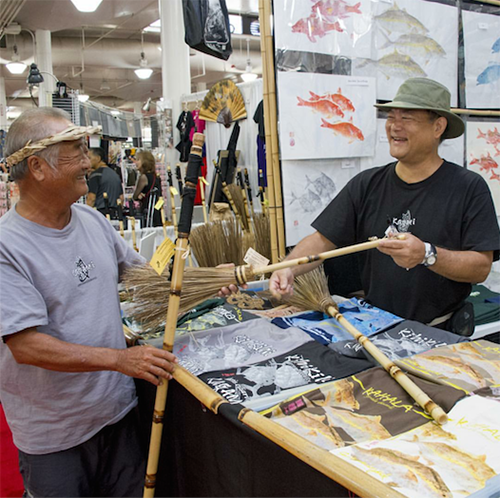 PHOTO COURTESY OF THE STAR ADVERTISER
See the full Star Advertiser photo gallery here.