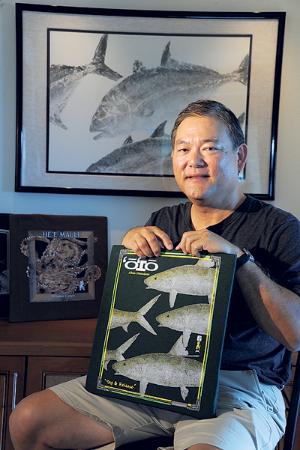 PHOTO COURTESY OF CRAIG T. KOJIMA
Aloha
Those who have never met us at craft fairs, art shows, restaurants, and public venues around town, we welcome you to our art. To our thousands of loyal customers, it is with great anticipation that our website will facilitate keeping in touch with you. Your support throughout the years is truly appreciated and as always, your comments and suggestions are welcome.
My art is inspired by the ocean. It captures a special moment in my life that I want to share. After deciding on the subject matter and layout of the design, I begin the task of trying to attain a print of suitable quality. As with most things in life, Gyotaku is relatively easy to do but difficult to do well.
If I have not worked with a species before, I feel fortunate to pull off an acceptable "base" print. It can take weeks, months or even years before all of the specific techniques are developed enough to complete a particular species with just the right amount of detail & color. Only then is it put up for public viewing. It's ironic but in spite of the intense effort, I feel good about a print when it appears as though I had no part in its creation.
Generally, my originals are produced by the direct method of Gyotaku using acrylic paint on watercolor paper or paper from Japan. All materials used are archival and acid free. Signed limited edition reproductions are produced using the Giclee method. This involves digitizing the original artwork with a drum scanner. The computer file is then recalibrated by a colorist who ensures that colors of the reproduction match precisely with the original. Using an Iris printer, each piece is individually checked against the original to ensure the utmost accuracy.
You may inquire about purchasing an original piece, work on consignment, signed limited edition reproduction, or other merchandise by visiting our online gallery. We accept commissioned work if something shown is not available or if custom work is required. Limited edition reproductions may be created from any original with a minimum order of 10 pieces. Trade inquires are also welcome.